Process
Once we had an idea of what we were going make, we had to decide on what materials to use. Since this piece would be on display in public, we had to use materials that would be durable enough to withstand use, while also being budget friendly and eco-conscious. We found scraps of sheet metal from the metal shop that we used as the stem, and repurposed a wooden base from another project to house the arduino and power-supply. For the could itself, we decided on using polester stuffing and chicken-wire to mould the cloud cells.
We powered the cloud using an Arduino Mega, three capacitive-touch sensors and approximately 75 white leds. To actute the capacitive sensors, we decided to use metal washers we found and attached them to wires hanging from the cloud. This gave us a conductive material for users to touch, and the wires resembled rain.
After assembling all the materials we got to work on the build. I delegated shaping and putting together the frame to my other team-mates while I worked on the Arduino code. In between coding and shaping sessions we worked on soldering the LEDs into various groups that would be lit up when touched. To add a surprise factor, I added a function in the code so that after a certain number of touches, the cloud cells would flash in a random order.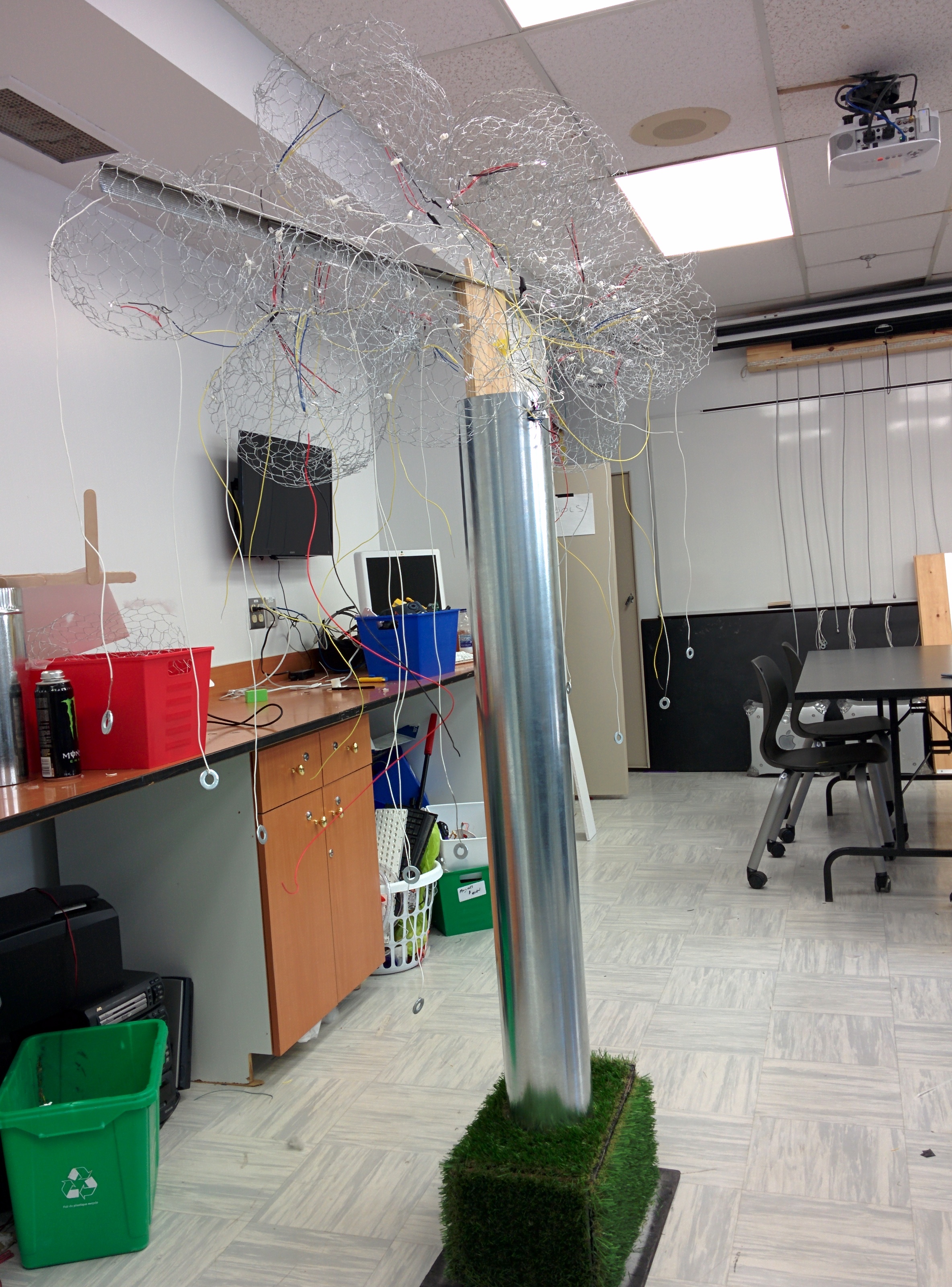 The build in progress.
Outcome
As a team we were really happy with how our cloud turned out. The scuplture worked as anticipated and was placed in the main cafeteria of Dawson college, where it got a lot of use from students and faculty alike. I'm proud of this project because I learned a lot while making it and it was my first big project where I worked with the Arduino platform.
We got great feedback from our profs, and other faculty in the school, and it even won a 'best in class' award, but there's always room for improvement. If I were to do it again with the skills that I have now, I would make the intraction more complex rather than touching a metal washer and having the same outcome most of the time.